Radiation dose management is a software solution that is used to collect, control, analyze, and optimize radiation doses delivered to patients during image-guided surgery, medical imaging examinations, interventional procedures, and nuclear medicine. The information collected is stored in the form of a Dose Archiving and Communication System (DACS). The growth of this market is driven by the rising incidence of chronic diseases, growing awareness and industry initiatives for radiation dose management, and the increasing number of diagnostic centers and installation base of radiology equipment.
To know about the assumptions considered for the study download the pdf brochure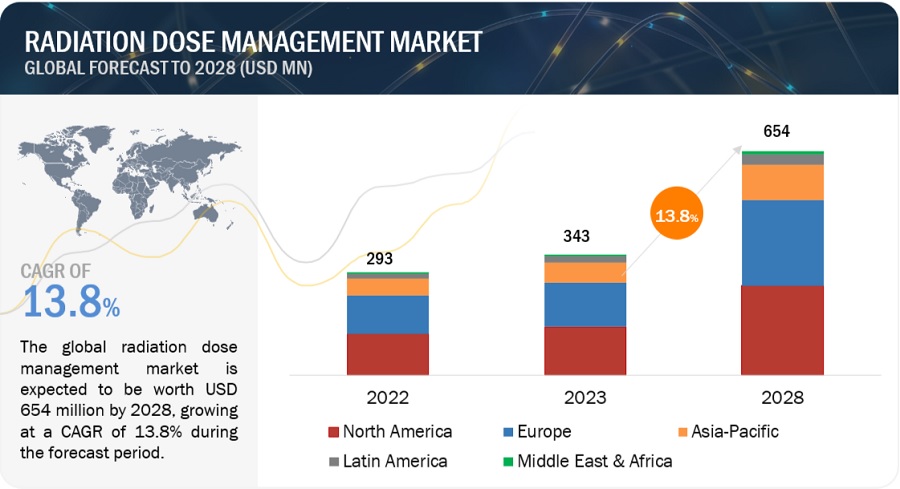 The radiation dose management market is projected to reach USD 422.65 million by 2025 from USD 220.22 million in 2020, at a CAGR 13.9% from 2020 to 2025.
The radiation dose management market is a highly consolidated market and is dominated by various players. The major players operating in this market are Bayer AG (Germany), GE Healthcare (US), Philips Healthcare (Netherlands), Siemens Healthineers (Germany), FUJIFILM Holdings Corporation (Japan), Canon Inc. (Japan), PACSHealth, LLC (US), Sectra AB (Sweden), Bracco Imaging S.p.A. (Italy), Qaelum N.V. (Belgium), Agfa Healthcare (Belgium), Novarad Corporation (US), Medic Vision (US), Volpara Solutions Inc. (US), Guerbet (France), Medsquare (France), and INFINITT Healthcare Co. Ltd. (South Korea).
Bayer AG (Germany)
Bayer AG (US) held the leading position in the radiation dose management market in 2019. The company provides its radiation dose management solutions (radimetrics) through its Consumer Health business segment. The company entered this market by acquiring Radimetrics (Canada) in November 2012. The company is a well-established brand and has been present in the market for nearly a decade, which gives it a competitive edge over other players. It is innovation-centric and invests heavily in RD for maintaining its market share. It is also customer-oriented and maintains a strong relationship with its customers, which helps it maintain its leadership position.
Recent Developments:
Sectra AB launched Sectra Dosetrack.
Sectra AB launched Gadolinium Tracking in its dose monitoring solution.
DOSE, Qaelum's dose management solution, expanded its reach in radiology and medical imaging departments in the UK.
Frequently Asked Questions (FAQ):
What is the projected market value of the global radiation dose management market?
What is the estimated growth rate (CAGR) of the global radiation dose management market for the next five years?
Who are the major players offering radiation dose management solutions and services in the market?
Which modality segment of the global radiation dose management market is expected to witness the highest growth?
Which end user segment is expected to grow at the highest CAGR during the forecast period?
Make an Enquire to Buy this Report @ https://www.marketsandmarkets.com/Enquiry_Before_BuyingNew.asp?id=82326344